HOME FRONT
Reminiscences of life in and around the village of West Haddon during the Second World War.
This is not a history of the War. It is a patchwork of memories from a wide range of people who lived through it in West Haddon - some sad, some funny, some so vivid in their detail they offer unique insights into the experience of rural life on the Home Front.
The day war broke out
"We were busy making blackout curtains, waiting for the radio announcement. I burst into tears at the news - expected bombers to come and drop bombs straight away."
"I remember standing on the doorstep, waiting for 11 o'clock, heard the declaration on the wireless. It was a sunny day."
"I remember hearing Mr Chamberlain on the radio, and tearing down the A5 home to Mum and Dad."
"I was on holiday in Wales with my mother. I drove through the night to West Haddon then travelled on to my WAAF unit."
War work
"I went to work at Coventry Standard - lived with my Grandma in Coventry. We made wooden parts for aeroplanes, but I don't know what sort of aeroplane. Before the rush we were so short of work we sat and knitted between times."
"I was in service at the time - had to pack it up and go in to the factory [Lodge Plugs, Rugby]. I worked 7am to 8pm, travelled into Rugby by bike. If it had a puncture, I had to walk. Or if it was snowing, I had to walk."
The Fire Service
"This was my week when I was in the Fire Service: Thursday - Drill night: Sunday - Drill (perhaps in Northampton). One night a week I used to spend where I worked and then you had one night firewatching. That was on top of your normal work. Cropwatching was in case a German landed, or it caught fire. You had a 2-hour shift: 11pm-1am; 1am-3am; 3am-5am. 1am -3am were the bad shift - you'd have to wake up, do your shift, then go back to bed. The 11pm-1am shift weren't too bad 'cause you hadn't been to bed necessarily."
"Fire Service people used to come out and give demonstrations. They brought a fire engine with a long extension ladder. They asked anyone who liked to go up on it and extended it as you stood on it. West Haddon won the cup for the fastest run-out with the hose. There were up to a dozen in the team: Jack Ellis, Ernie Adams, Alan Lord, Tom Gare and Harold Lee...George Townley was head man."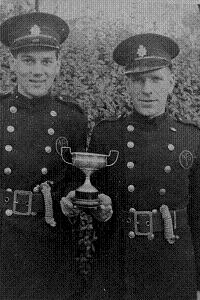 Fire Service Cup. Alan Lord and Ernie Adams with the Cup won by the West Haddon Fire Service Team.
First Aid
"Mr Archie Underwood was a retired member of the St John's Ambulance Brigade and the mothers of the village persuaded him to teach a first aid class. Young Arthur West, who worked at Judkins' butcher's shop in the West End at the time, was persuaded to arrange a 'casualty'. He got Philip Croxford (the lad who sang solos in the church choir) to pose for the part.
"He was supposed to be riding his bike on the Green while his mother and the others were in the Institute with Mr Underwood. Arthur, being a butcher's boy, was very generous with the blood - he used about half a bucket of bull's blood.
"He dashed into the Institute, putting on heavy dramatics. They all ran out and as soon as Mrs Croxford recognised her son she fainted - so Mr Underwood had a real casualty to deal with after all!"
'Put that light out!'
My mother got into trouble for showing a light - but of course it was us children with torches - just pointing them about out of the window to see what we could see. We didn't know any better - you think it's a bit of a game at that age."
"The Hall was heavily guarded while the Royal Engineers were there - searchlights every night."
Rationing and making do.
"We thanked God every night for hen, pig and cow, home produced fruit and vegetables."
"Once a week we went to Daventry to see what we could get in the way oif meat and such off the ration. Clothes were turned inside out, unpicked and remade by Mum."
"We helped each other out and managed."
"We coped, as we had a lot of poultry and could do some swapping."
"There was a Tank Division up at Guilsborough and two of the lads used to come here to church on a Sunday. Well, my mother and I decided to invite them to Sunday lunch each week. We used all the meat ration for the week and had really good dinners. When Mrs Soper (mother of the Rev. Donald Soper, living at Verwood House) commented to one of them how well he looked, he praised my mother for it as well as thanking God, saying, 'There's many a good sermon come out of your oven.'"
"Rationing did make life difficult and supplies were hard to get. My husband [Mr Spring, manager of the Co-op, later Matilda's ] was very fair and would save tins of salmon or fruit till he had enough so all his customers could have a tin for Christmas. You were allowed collar bacon one week and streaky the next. We used to have to cut a 2lb block of butter into exact 2oz portions, and you had to get it right or the Weights and Measures were on to you."
"The women of the local Women's Institute made hundreds of pounds of jam which was sold in the local shop. And the children of the village picked hundreds of pounds of rose-hips from the hedgerows to make up into Rose Hip Syrup."
"I helped with the canning of fruit at the Church Institute Hall, which stood where our Village Hall now is. It was hard work, but great fun. Women brought their own fruit for canning - all sorts of different fruit. It was Government policy to can fruit, or make it into jam, to avoid waste. There were several problems with the canning, not least that the water had to be heated up to boiling in the big copper. It took all day to can the fruit and we started preparing it in the morning. Greta Orcherton's granny, Mrs Adams, was the Caretaker at the time."
"We managed the wedding quite well. Lace wasn't on ration for the wedding dress and everyone contributed some food rations towards the Reception at the old Institute. We had our own pig - did we have our own ham for the Reception? I can't remember."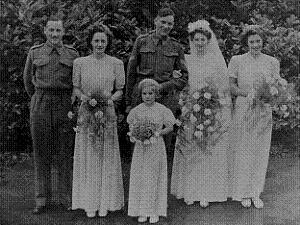 A village wedding in wartime: Fred Lord and Joyce Townley.
The Home Guard
"We started off with pitchforks, then we had shotguns and then we got rifles."
"The Home Guard photograph was taken one Sunday on the Rec. [now the dog-walking field behind the Church.] Derek Gammage, Jack Gammage and Harry Atterbury weren't on it because they were working."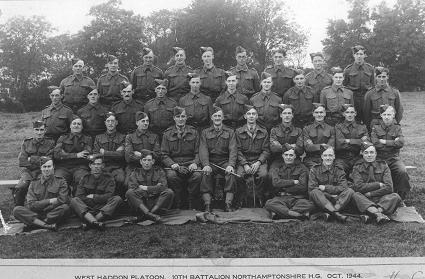 West Haddon Platoon. Home Guard.
"You had your day's work to do and then you had to go on guard perhaps two nights a week - all night- and still do your work. So you needed to have a bit of a laugh. But for all that we were very well trained."
"We met in the back room of the Crown - and that was awkward to get at in army boots, going up them little stairs. We did at one time retire to the back room of the Compass. Then we had this barn at Crystal House...
"The local Searchlight Battalion at West Haddon Hall had all their small arms called in to supply the Army coming back from Dunkirk, so they had to use broomstick handles for parades and things like that. In the meantime we'd got this place at the back of Crystal house and, clearing it out so we could use it, we found this heap of ex-theatrical rifles - been used in The Desert Song or something like that, some time or other. They were ideal for arms training, rifle drill, just the job. So on Sunday mornings, at the time of Dunkirk, there'd be the Home Guard, with no uniforms and no real equipment, but every man with a 'rifle' marching down the street, meeting the Regular Army from west Haddon hall, all done up in their Sunday best uniforms, but every one with a broomstick..."
'The night they bombed Coventry'.
I was at Harborough Magna with Polly Barnes from West Haddon who was schoolmistress at Harborough Magna - I was roped in to look after the Infants. I heard and saw the bombing. We all stood at the front door of the digs, watching the red glow in the sky. Then the light leapt up and you could see another fire had started. It was a terrifying night."
"The night that Coventry was bombed, Ned was on leave, trying to get back to West Haddon. He got a train to Leamington and then a taxi to Rugby, which bounced all over the road. The taxi driver refused to go any further than Rugby, so Ned had to walk the rest of the way. He had to throw stones at the cottage window to get our attention!"
"I remember all the lights and the banging. It lit the whole sky. You could recognise the different sounds of the enemy plane engines. There were no sirens or air-raid warnings - there were no air raid shelters in the village."
"We saw and heard the planes going over and pushed the kids under the stairs."
"I was over at Long Lawford. I remember a brilliant moonlit night: bullets fired down in the searchlight beams; anti-aircraft shells spattering on the roof; swatting gnats in the air raid shelter."
"They dropped bombs along Buckby Road and at Litchfield's [West Haddon Grange]. I was just near the corner at the Crown when one fell and I could feel the vibration from there."
"From where we lived you could see straight across to Coventry. You could see the lights, the great fire, and flames from whole buildings alight."
"It lasted from 5pm all through the night till the next morning. Of course you couldn't sleep, and the children were terrified. They found cartridges from the tracer bullets in the school playground."
"I walked along the Buckby road the morning after the bomb dropped. There was an enormous crater. I never realised just how big cows really were until seeing them on their sides like that."
P.O.W.s
There was a P.O.W. camp at Yelvertoft. The van would come through the village and they would stop to buy their cigarettes. They couldn't speak English, but you got to know what they wanted. The Italians were very polite and would give a little bow to you."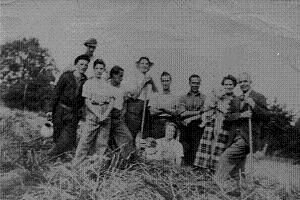 Litchfield harvest: l. to r. Regular farmworker, Bob Litchfield, Lad from London who helped, Italian POW, Joseph Litchfield, Italian POW, Lily Litchfield (seated), Italian POW, Mr and Mrs Buswell.
Evacuees
"They came mainly from the London area. Some stayed for a long time. At least one married locally and still lives in the area. There was one tragedy. A boy of about 12 was killed outside what is now the hairdresser's on the Northampton Road, when tanks came through the village and one crashed into the wall. He's buried in the churchyard.
"A London girls' school moved into Foxhill manor and several of the pupils stayed in the village until facilities were properly sorted out. One of the ladies involved in the school was the wife of Guy Gibson, the famous Dambuster."
Social life.
"There were lots of dances in the old Institute, especially when the soldiers came to the Hall. They were the highlight of everyone's week. The band from Northampton Fire HQ was organised by Mr Townley through the Fire Service.
"There were Saturday night hops, with Sibyl Townley on piano, Doreen Allen and Barbara Windybank on accordions and someone else on drums. Jean Garrett, Florence Jones's sister formed a band."
V.E.Day
"There was a party for the whole village, centred around the Institute Hall and the School. Lunch was given to 'Senior Citizens' of the village, followed by tea for the children. They ate at tables set out in the playground. In the evening there was a party on the Green. Cecil Ainge put up the fairy lights and organised the music. I don't remember how late it went on, but it must have been some party, as everyone was complaining that they had worn their shoes out!"
"There were street parties in the village. Of course, my husband wasn't home yet so I wasn't going, but he wrote to say I should and we had a huge party down on the Green."
"We spent all day celebrating. The eight families all put in from their rations so there was a good spread. We had the piano up on Mr Atterbury's cart and there was dancing and singing. Oh, we had a lovely time!"
"Giving it a big thrash on the Green - there was a great gathering there... We didn't get home till gone 2 o'clock in the morning."
"They were bringing free drink along from the Sheaf - there were a lot of people not quite sober that day!"
"What do I remember about V.E.Day? - getting blotto!"
"It was Hallelujah that night on the village Green - but it was work again the next day!"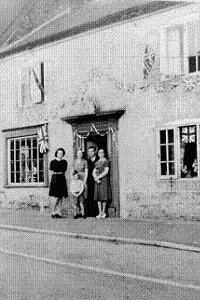 Vine Cottage, Guilsborough Road on VE Day: The Ainge/Stanley family.
West Haddon Local History Group would like to thank the many villagers who have shared their memories of the war. They include:
Gladys Atterbury
Mabel Castell
Pat Dester
Emily Gammage
Tom Gare
John Harris
Betty Heaton
Beryl Lee
Joyce Lord
Kathleen Overton
Ena Spring
Hilda Stanley.