John Hanbury of West Haddon, clockmaker.
John Hanbury was born in 1781, in the small village of Watford in Northamptonshire (near the Watford Gap and adjacent to the parish of West Haddon).
His father, Valentine Hanbury, was listed as a clockmaker in the 1771 Militia List for Watford. However, by the early years of the 19th century, the family had moved to the more populous village of West Haddon, just up the road.
Valentineís father and brother (another Valentine and John) were woolcombers in Watford, both of them dying (brother John unmarried) in the 1790s, when small scale rural textile manufacturing was in steep decline in Northamptonshire.
The family may have moved to West Haddon for commercial reasons. The village was not only on the Turnpike road from Warwick to Northampton, but also on the crossroads with the route from Banbury to Market Harborough, so there was likely to be a lot more business and passing trade than in Watford.
By 1831, John was a property owner, qualified to vote in the 1831 Parliamentary Election. Because at this time the ballot was not secret, we can see, from the published Poll Book, not only who he voted for (the two Whig candidates), but also the record of his occupation, described at this time as a watchmaker, rather than a clockmaker.
John married and had two daughters, one of whom married John Swingler, the miller of Winwick (another contiguous parish), the other remaining unmarried at the time of his death. There were no sons to carry on his trade.
He was a Particular Baptist and he acted as registrar of baptisms at the chapel between 1835 and 1837 during an interregnum between Pastors.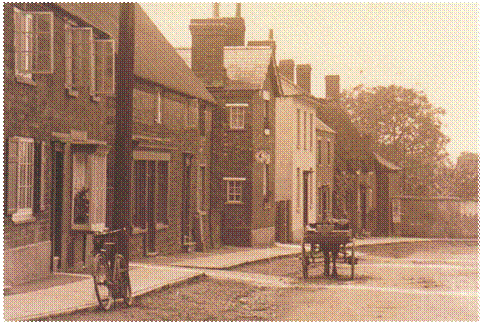 He died in 1844, which means that he can be identified in the 1841 census, from which we can deduce that he probably lived in the thatched house in High Street, two doors to the right of the white house shown in an early 20th century photograph. This house has since been demolished and a large modern house has been built on the site.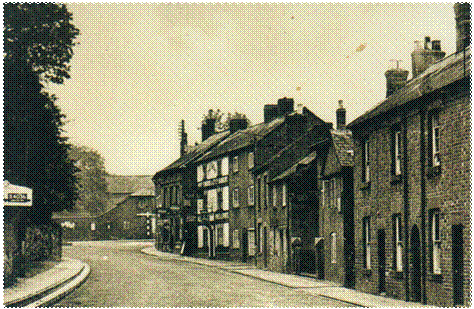 The house in which his father Valentine was living, as a tenant, by 1804 can be tentatively identified, from evidence in the Land Tax Assessments and the will of the landlord of the Sheaf Inn in West End, as the premises to the right of the pub shown in the second old photograph. This may have been where John grew up and learned his trade. It has since seen numerous incarnations: as a bakerís, an antique shop, a floristís and just this week has reopened as a bag and shoe boutique, though now the village has a by-pass it is unlikely to benefit from the passing trade enjoyed by the Hanburys.
Information from: Dr W J Raybould
December, 2009